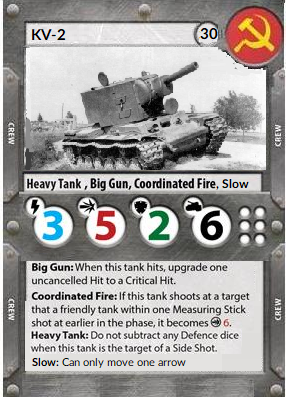 So my first attempt at making one of these since I couldn't find one floating around the net. I stole the base card from Tenente (hope you don't mind!).
The base line stats I started with are from Zerstorer from the old forum:
"For the KV-2, I would use 2-5-2-6, coordinated fire, big gun, heavy tank, slow tank, 36 pts."
Comparing that with the ISU-152 and the other official cards the numbers seem fair. I knocked it down cost wise to 30, figuring the stronger Late-Tiger was at 33. Looking at the Early Tiger's 4-5-2-7 for only 29 points, makes me want to cut it down to 28pts cost.
The other thing I loath to put on is the Slow, raw speed it's at Churchill levels, but then again, cross country with a poor engine+transmission along with its slow turret rotation, I can understand the mobility hit here more than any other.
Any wisdom from the crowd is very appreciated and the card is easily editable!