Well hello yet again. Sorry it took me more than a week to get something rolling out, but trying to bring in another nation takes a bit of time to get a national advantage working. Especially with the Polish. I was all to eager to fall in the trap of the stereotypical view of the Polish - a charging "Winged Hussar"(TM)  

. Obviously that would be blatantly quite the false image, especially for tank corps. I could not find any official doctrine documents (mainly that I don't think they either survived, or I am not looking in the right places  

). I read through sources  

, but could only find info on what happened after they were conquered  

 - they used ambush tactics. As anyone else would do so too though in such a situation. But that is all what I could push off from. So, using that as the basis, I developed the national doctrine as on the card below: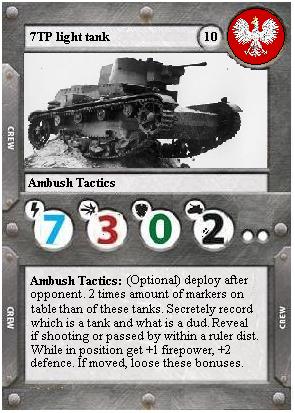 It is not Fast (only around 37km/h, which is a standard tank speed for this period), hence will not have the "dashing" capability either, even though it is a light tank. Now, the numbers. Armed with a Bofors 37 mm, it had the following characteristics:
300 metres = 40mm penetration
500 metres = 33mm penetration
Pretty gloomy of an image for your life I would say, but, early war stuff wasn't that impressive mostly - I mean there were no monstrosities like the hapless Tigers, or the scary Panthers and IS-2's. It had performance quite a bit less than the 45 mm anti-tank gun M1937 (53-K) on the BT-7, which at 300 meters did 60mm penetration (referring to my BT-7 development earlier). However, a 2 hit points is closer to light auto-guns and heavy MG's, so I think 3 is the minimum here. Armour was thin, at 17mm, hence no real defence dice should be there, and being a light tank, that was not that durable to being hit, I think 2 hit points justify that if hit, it will be likely to be taken out - armour class was similar to a Panzer II. It did have three crew-members, so that one is represented on the card. As to the high initiative, I thought, ambush requires being fast on the decision, since you are fighting on home ground (if you are ambushing, then it is assumed so I think) you know the movement of your enemy in advance.
Please note, I made it that while the tank is in prepared positions, it has advantages, which are however lost if moved from - forcing the player to be more defensive in this case. And yes, you do set twice the amount of possible position markers than of tanks with "Ambush Tactics" capability - leaves the opponent guessing where you are.... but this rule is optional, not all of these tanks must use it, those who don't, set up as normal.
I was tempted to make it at 9 points, though that would mean that my CV-33 ranks better, which doesn't seem all to correct, especially if one takes into account the "Ambush Tactics" with the prepared positions. But, whatever people say here, if you think it is still a bit pricey, let me know. As always, subject to play-testing work and feedback based corrections, so awaiting comments here eagerly if you have them.
That's all for now, hope to get more things rolling out soon. Next are some more Japanese Sushi and Sake flying your way  

, so watch this space.