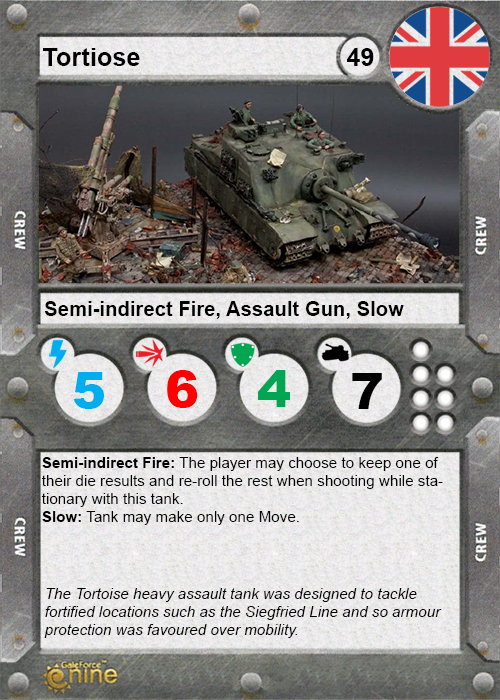 Here's the card my 'crew' have been using for the Tortoise. Something of a beast on paper, despite its relatively poor mobility.
Here's a quick breakdown of how I arrived at the stats I did:
British vehicles generally have higher initiative than other nations, generally attributed to good training of the crew. All Churchill variants for example, also have initiative of 5. Had the Tortoise ever seen combat I imagine it would only have been trusted to the finest crews. Thus initiative 5 despite the poor P2W and high weight.
The gun is comparable to a 'long 88', as on the Jagdpanther, thus firepower 6.
The frontal armour is in excess of 200mm, twice that of a Tiger (armour 2) and also greater than the Churchill VII (3) hence my arriving at 4. This seems high on paper but seeing as it is relatively easy to obtain 6 defence dice regardless, and the vehicle has the 'slow' rule I felt that this was acceptable.
As for hull points, the majority of tank-destroyer type cards are typically less durable than similar tanks. I opted for 7 as this was significantly less than the Churchill VII but not so low as to make the vehicle seem fragile.
The general intention for this card was for it to a a sort of centrepiece to build a team around. A slow-rolling brick with a scary gun but limited firing arc. Almost like a 'boss' in a video game. I have a few other cards similar to this, such as the Tiger II, Jagdtiger and Maus.